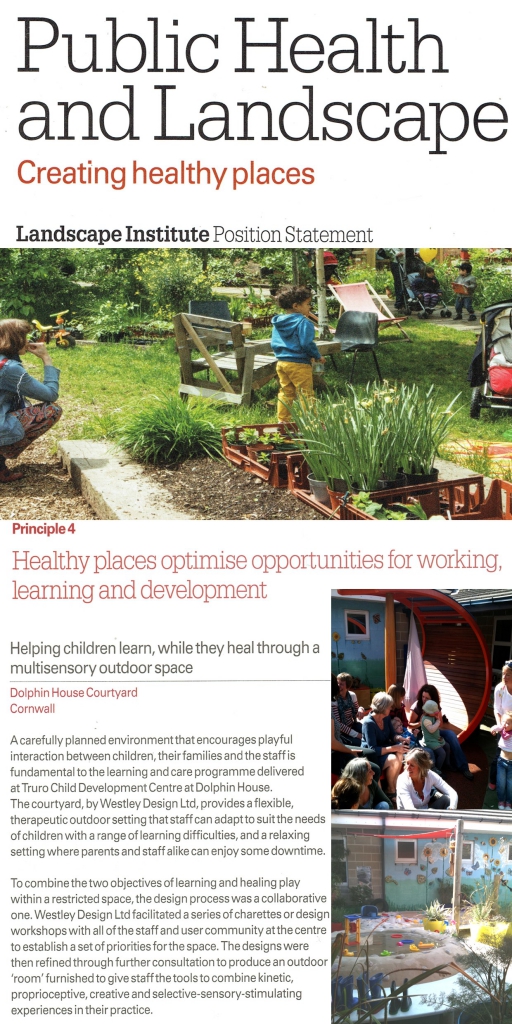 Westley Design believe that engagement with research and education is fundamental to informing and supporting our effective consultancy in practice. Director, Michael Westley is a Chartered Member of the Landscape Institute (C.M.L.I), and Fellow of the Higher Education Academy (F.H.E.A.). He combines his Landscape Architecture practice with academic teaching and research appointment (since 1994) as Lecturer in Architecture at the Plymouth University School of Art, Design and Architecture.
Michael's career has included research & publication collaborations with: CABE Space (Commission for Architecture and the Built Environment), Design Council CABE, European Centre for Environment and Human Health, University of Exeter, and (UK) Landscape Institute.
Michael develops, manages and delivers research projects, training and H.E. courses focused on green & blue infrastructure for wellbeing, inclusive co-design, therapeutic placemaking, and inclusive play design. Michael routinely involves his students in collaborative 'real-life' projects, engaging with clients from public, private & voluntary sectors. Research collaborative projects include:
"Rewilding education? Exploring an imagined and experienced outdoor learning space", Charlotte Bates- Journal Children's Geographies , 2019
"Everyday Green Space and Experienced Wellbeing: The Significance of Wildlife Encounters" Landscape Research, Taylor & Francis (Routledge) 2016, with Bell, S., Lovell, R., Wheeler, BW.
"Wellbeing by Design: from gardens to green infrastructure" European Landscape Conference September 2016. Royal Agricultural University, Cirencester. with Bell S.
"Design for Healing Spaces Therapeutic Gardens", (case studies supplied) Winterbottom D. & Wagenfeld A., 2015.
"Democratic Design for Improved Healthcare Outcomes through Therapeutic Gardens, Outdoor Placemaking, and Community Green infrastructure". Environmental Design Research Association, Building with Change Conference, 2014. with Winterbottom D., Wagenfeld A., Sachs N, & Hearing M.C.
'Inclusive Design Hub' (web resource), Design Council U.K., DCLG 2014-
"Inclusive Designed Play-spaces: An Inter-professional Perspective" OT practice– Journal of Occupational Therapy U.S.) 2014. with, Wagenfeld A. & Young D.
"Public Health & Landscape – Creating Healthy Places" UK Landscape Institute, 2013.
"ERDF- European Centre for Environment & Human Health-'In Residence Award 2013' with Cornwall Council, European Centre of Environment & Human Health & Cornwall NHS Trust
Please contact us to learn more about our research and publications, and to explore potential for collaboration …